COMPATIBLE FLOWMETER ELECTRONICS

FLOW RATE INDICATOR AND TOTALIZER FOR FLOW METERS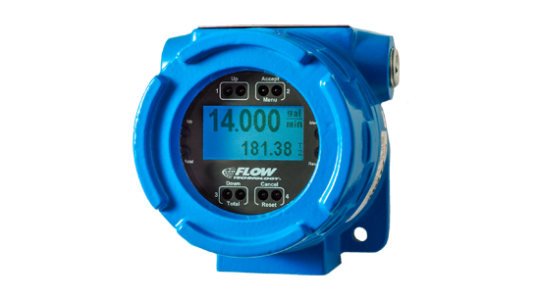 INDUSTRIAL DISPLAY
The Industrial Display (ID) is used to display flow rate and total from the pulse output of a flow meter. The ID provides a rugged solution for a local rate and total display. When used in conjunction with FTI's Linear Link and Linear Link TCI products, it is a rugged industrial transmitter.
QUICK SPECS
DC pulse input
Frequency Range: 0.5 Hz to 4 kHz
Impedance: >3M ohms
Display: 8-digit totalizer,  5-digit rate indicator
Input Power: 12-32 VDC, 0.11 amps max.
Frequency output, same as input pulse
Temperature: 0°C to 50°C, -10°C to 60°C storage
Display Units: Mass & volume
CE Approved Directive 2004/108/EC, EN61000-6-2, EN61000-6-4
Explosion-proof Enclosure, Class I, Div I, Groups B, C, D, E