Flow Technology Announces QCT_PA12 In-Line Ultrasonic Flow Meters for Low Viscosity Liquid Applications

Nylon-12-body ultrasonic meters deliver excellent accuracy and reliability for a wide range of liquid applications
TEMPE, Ariz., November 30, 2020 – FTI Flow Technology, Inc. (FTI), a leading manufacturer of precision flow measurement instruments, systems and calibrators, has introduced the QCT_PA12 Series of in-line liquid ultrasonic flow meters. These compact and lightweight meters are intended for use in low-viscosity liquid applications requiring excellent accuracy and reliability at an economical price point.
The FTI QCT_PA12 Series is a cost-effect and versatile solution for measuring low-viscosity liquids in a wide range of industries, such as chemical, food & beverage, pharmaceutical, plastics, power generation, pulp & paper, semiconductor, and steel. The meters' construction and Nylon-12 (PA12) material make them the meters of choice for many high purity and corrosive liquids. Typical applications include water treatment for boilers and cooling towers, clean-in-place (CIP) systems, mechanical seal flushing/cooling, process water, cooling loops, reverse osmosis (RO) systems, small-line injection systems, and larger DI water distribution systems and high-purity filtration systems.
"The addition of the PA12 Nylon provides an option for industries that require USP Class VI-compliant materials," said Matt Zajac, FTI Flow Technology marketing manager. "And the new advanced cross-flow design allows FTI to add 1.5-inch and 2-inch meter sizes while reducing the pressure drop in the 1-inch model."
High accuracy and repeatability are achieved through the unique measurement section within the QCT_PA12 Series meter where flow is conditioned and Delta T measured along the meter's axis. The meter bases its operation on measuring the time difference of an ultrasonic wave traveling with and against the flowing medium. The time difference is directionally proportional to the fluid's flow rate.
The QCT_PA12 Series flow meters have non-wetted sensors, no moving parts, and there is nothing in the flow stream that will cause an obstruction to the flow path. The meter is available in sizes 1/8 inch to 2 inches, accurate to +/- 0.5 percent of reading plus zero stability, and repeatability is +/- 0.2 percent over 10:1 calibration range. It has a 0.035 to 250 GPM flow range, 14°F to 176°F (-10°C to 80°C) temperature range, and analog, scaled frequency and Modbus RTU outputs.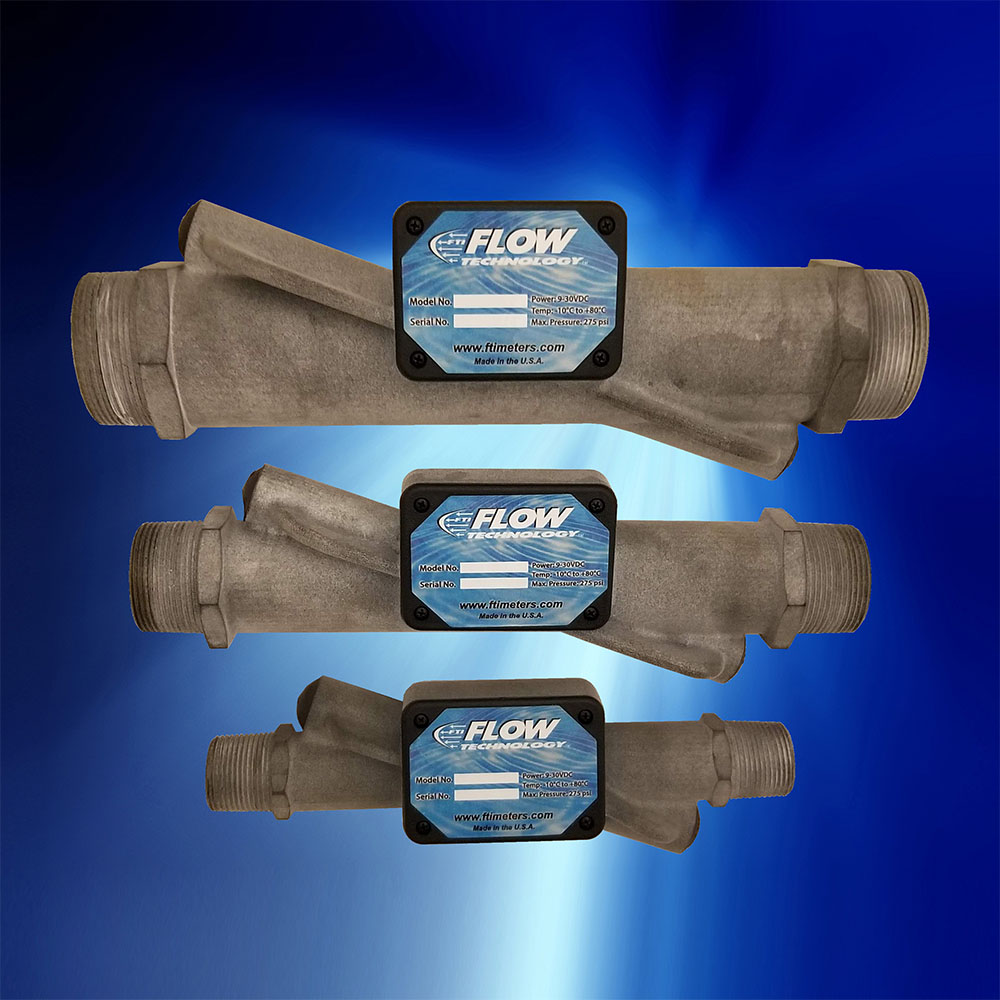 About Flow Technology, Inc.
With over 50 years of flow measurement experience, FTI Flow Technology, Inc. maintains the highest standards of quality in its design, manufacturing and service. Its product line includes a wide range of turbine, positive displacement, electromagnetic, in-line and clamp-on ultrasonic flow meters; flow calibrators, flow controllers and ancillary electronics. Typical applications are found in the aerospace, automotive, industrial, metrology, oil & gas, and sanitary markets. In addition, the company maintains one of the world's largest primary standard flow meter calibration laboratories, and provides complete flow meter calibration, service and repair. FTI Flow Technology, Inc. is registered to ISO 9001 & AS9100, accredited by NVLAP, and has calibration conformance to ISO/IEC 17025, MIL-STD-45662A and ANSI Z 540. Visit them at www.ftimeters.com.