COMPATIBLE FLOWMETER ELECTRONICS

microLinK Display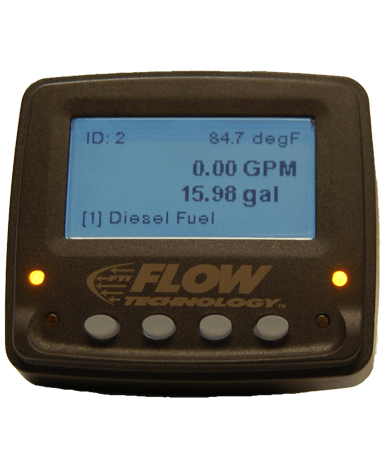 microLinK Display for use with microLinK Smart Pickoff
The microLinK Display is an easy to use, compact and lightweight rate/totalizer display to monitor CANbus data from a Flow Technology microLinK smart pickoff. The microLinK Display is available in two versions, one is for a single flow meter/microLinK and the other is for monitoring two flow meters in a net consumption (A-B) configuration. With embedded LED lights, it provides real-time feedback of the communication status.
The microLinK Display can be used to change the configuration of a microLinK pickoff. These functions include changing the active fluid, resetting the totalizer, and changing the averaging factor. The display brightness and contrast can also be changed to suit the installed environment.
The display's compact size is ideally suited for use on low power vehicles and equipment such as small construction machines, generators and agricultural equipment. It can be mounted in a panel or on a bracket.
QUICK SPECS
For use with microLinK smart pickoff
Display of rate, total, temperature, node ID, active fluid index, and active fluid name
CAN diagnostics
10 to 30 VDC power
Single or A-B display option
2.3″ high resolution Dot Matrix LCD display
Fully sunlight readable
Fully sunlight readable
Adjustable brightness and contrast
Rugged ABS case
Fully sealed to IP 66 (front) and IP 67 (back)
Can be used to change the configuration of a microLinK pickoff

Active fluid
Resetting the totalizer
Averaging factor