PD Flow Meter System Handles High-Pressure Applications With Only Two Moving Parts

Rugged HP/EP system withstands operating pressure up to 3,000 psig
TEMPE, Ariz. – Flow Technology, Inc. (FTI), a leading manufacturer of precision flow measurement instruments, systems and calibrators, today announced the HP/EP (Extended Pressure) positive displacement (PD) flow meter system, which is intended for liquid flow applications involving high operating pressures. The meter features a bearingless design with only two moving parts.
End users employ PD flow meters to measure demanding liquids in industrial processing, including hydraulic fluid, polymers, polyurethanes, plastics and adhesives. For example, manufacturers of high-pressure gas valves used in pipeline applications often have difficulty keeping their advanced valves from leaking. The technology employed in the assembly of these devices may not be accurate enough to consistently dispense the correct amount of grease into the valves' seal apparatus. Flowmeters used in this operation must be able to measure very low flow rates in a high-pressure environment.
Pairing Flow Technology's HP-I Series positive displacement flow meter (optical interface option) with the EO Electro-Optic Encoder, the HP/EP system can accurately measure a wide range of liquids where process pressure can reach 3,000 psig and operating temperature reaches 400 degrees F (204 degrees C). The meter offers up to 1000:1 turndown and a viscosity range up to 1,000,000 cP+. It is available for 1/8 inch to 1-inch lines sizes.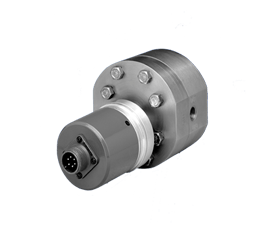 The EO Electro-Optic Encoder enables accurate monitoring of high viscosity fluids traveling at a low flow rate, or being batched in very small quantities. Unlike a magnetic pickoff, this equipment delivers a high-resolution output that can be as high as 630,000 pulses per gallon (166.45 pulses /cc).
For more information about the HP/EP system, please visit https://ftimeters.com.